Open Tech 2009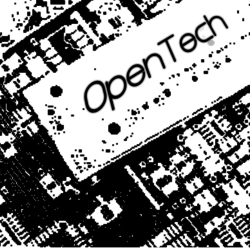 I pre­sent­ed a 15-minute talk on record­ing radio dra­ma for the Inter­net over VoIP at the UKU­UG's Open Tech 2009 con­fer­ence on July 4 in London.
Here's a brief sum­ma­ry of the pre­sen­ta­tion. You can watch and lis­ten to the pre­sen­ta­tion as a Slide­cast here.
Radio Drama At A Distance
Radio dra­ma is a won­der­ful medi­um: it can be inex­pen­sive to pro­duce, extreme­ly evoca­tive, and of course the pic­tures are so much bet­ter than on tele­vi­sion. But effec­tive radio dra­ma does not require the facil­i­ties of Broad­cast­ing House: using VOIP tech­niques and an audio edit­ing sys­tem you can cre­ate it at home and not even be in the same room — you can be any­where in the world.
The Radio Riel Play­ers was found­ed in 2008 by a group of Sec­ond Life res­i­dents around the world to pro­duce plays for broad­cast on inter­net radio.
So far, we have pro­duced a few pub­lic-domain works, includ­ing excerpts from Shake­speare for the "Shake­speare in SL" project, an E F Ben­son short sto­ry, and Charles Dick­en­s's "A Christ­mas Car­ol". Next up is "Pride & Prejudice".
The tech­nique is an ide­al way of allow­ing a group of peo­ple sep­a­rat­ed by space to cre­ate new and tra­di­tion­al dra­mat­ic works for Inter­net distribution.
This talk shows how you can do it yourself.
With per­form­ers around the world it requires plen­ty of plan­ning and co-ordi­na­tion to get peo­ple togeth­er at the same time and deter­mine which seg­ments to record when.
There are steps you can take to max­imise audio qual­i­ty (we use Skype) and post-pro­duc­tion is need­ed to remove laten­cy and pol­ish the final result (though you can do live per­for­mances at a pinch).
You also need to use pub­lic domain or orig­i­nal mate­r­i­al, orig­i­nal music and sound effects (or use roy­al­ty-free sources or take out a PRS Lim­it­ed Online Exploita­tion Licence and use pro­duc­tion music/effects).
The result can be broad­cast on inter­net radio or made avail­able as a podcast.
I spoke at the begin­ning of the first ses­sion of Stream B.
—Richard E