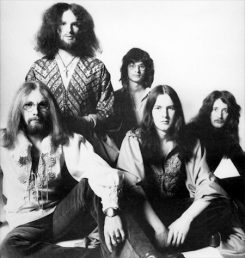 As I not­ed pre­vi­ous­ly, there are some tech­ni­cal chal­lenges asso­ci­at­ed with recov­er­ing the record­ings of the band Gryphon that I made in July 1974 dur­ing their land­mark per­for­mance at the Old Vic.
A notable prob­lem was the fact that there was a bass DI in the main PA mix (which was the basis for the record­ing, with the addi­tion of a coin­ci­dent pair of ambi­ent mics) and this was often extreme­ly loud in the bal­ance — some­times enough to cause inter­mod­u­la­tion dis­tor­tion with the rest of the mix (it's pos­si­ble that this was over­loaded on the record­ing).
To give you an insight into the results of this fac­tor, here's anoth­er piece from the Old Vic tapes. This is Open­ing Num­ber, the band's, er, open­ing num­ber. Note the effect of the bass entry about half-way through.
This is an exam­ple of why it may not be pos­si­ble to get an album's worth of tunes out of this record­ing. How­ev­er it will be worth our try­ing to recov­er the stereo mas­ter tapes to see if the dis­tor­tion is on there too (these trans­fers are from a copy).