Working at the World Wilderness Congress
Leona helped to co-ordi­nate resources at the 9th World Wilder­ness Con­gress (WWC), in Meri­da, Mex­i­co between the 6th and 13th of November.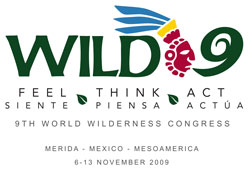 "Launched by The WILD Foun­da­tion in 1977, the World Wilder­ness Con­gress (WWC) is now the longest-run­ning, pub­lic, inter­na­tion­al envi­ron­men­tal forum. With over 30 years of con­ser­va­tion achieve­ments, the WWC has become a high-pro­file plat­form for act­ing on com­plex wilder­ness and wild­lands issues.
"WWCs include senior-lev­el rep­re­sen­ta­tion from gov­ern­ments, the pri­vate sec­tor, native peo­ples, non-gov­ern­men­tal orga­ni­za­tions, acad­e­mia and the arts in a struc­ture care­ful­ly designed to bring togeth­er the full spec­trum of wilder­ness-relat­ed views. Broad-based par­tic­i­pa­tion, com­bined with the spir­it of open and bal­anced debate, cre­ates a con­struc­tive, objec­tive ori­ent­ed envi­ron­ment, and gen­er­ates prac­ti­cal con­ser­va­tion outcomes.

"The Con­gress con­venes every three to four years around the world. Past WWCs have been held in South Africa (1977, 2001), Aus­tralia (1980), Scot­land (1983), USA (1987, 2005), Nor­way (1993), and India (1998).

"Since its ori­gins, the World Wilder­ness Con­gress has been a result-ori­ent­ed con­ser­va­tion project that begins long before the actu­al con­ven­tion of del­e­gates takes place, and WILD 9 will be no dif­fer­ent. In the months lead­ing up to Meri­da, sev­er­al com­mit­tees, groups, agen­cies and orga­ni­za­tions are work­ing on mod­els, objec­tives and tar­gets that address a glob­al agen­da and aim to achieve prac­ti­cal con­ser­va­tion results through a diverse and inter­est­ing pro­gram –with a Latin rhythm!"
Click here for more infor­ma­tion.
Last day's feed from the Congress:
Video clips at Ustream