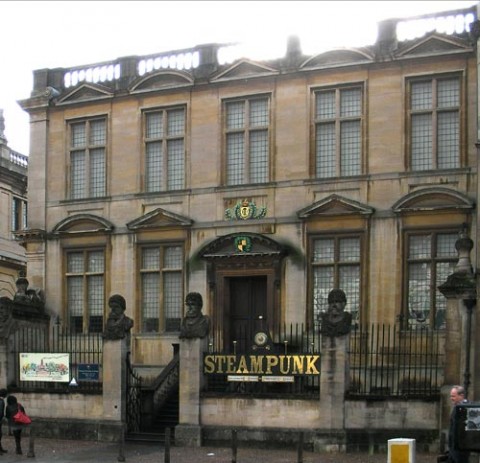 This weekend I had the pleasure of spending a day with a colloquy of friends in the venerable University city of Oxford, centred around a visit to the Museum of the History of Science to see their Steampunk Art exhibition.
I'd been past this building before – it's the original home of the Ashmolean – but never inside. Turns out it's a wonderful little museum on about three floors and a veritable storehouse of ancient scientific instruments of all shapes and size, with an emphasis on brass and the odd bit of mahogany.
The museum would be worth visiting at any time just to take in the development of scientific and technological instruments over the last few hundred years – there are microscopes, telescopes, astrolabes, electrical machines and a great deal more – but it also made the perfect location for the first UK museum exhibit of Steampunk Art, which runs until February 21, 2010. I would recommend a visit if you're in the area or can arrange to be.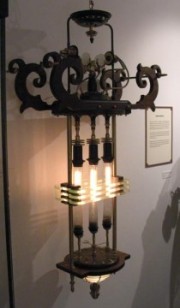 Steampunk, one could say, is a genre that imagines what might have happened if the technology of the 19th century had not been eclipsed by that of the 20th. It's Jules Verne and H G Wells' vision of technology; you also get a certain feeling of it from Oxfordian Philip Pullman's His Dark Materials trilogy.
Thus the basement of the Museum is currently filled with all manner of mysterious contraptions with glowing incandescent filaments, whirling (or potentially whirling) mechanisms, and mechanical prosthetics. Some of them are shown in the accompanying photographs.
I was joined by Oxford resident Polly (with whom I work on Designing Worlds), Lynne (my collaborator on the iPhys projects for Sunderland City College) and her husband Richard, and also, at least for part of the day, by Ann and Knick who it was lovely to see again and kindly put me up for the weekend.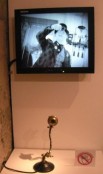 After the exhibition and some refreshment, we took in the last full day of a fascinating exhibition on book-binding at the Bodleian, followed by the open-top bus tour of the city, which is worth the effort. Mid-afternoon we ended up at Blackwells' where we all seemed to acquire a set of John Grant's series of science books, Discarded, Corrupted and Bogus Science. We then retired to the coffee shop upstairs to discuss falling standards in British secondary and further education.
In the evening, an excellent dinner at the Trout in Wolvercote.