Steampunk in Oxford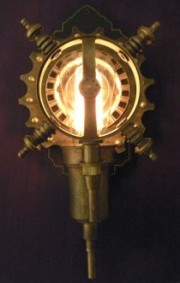 This week­end I had the plea­sure of spend­ing a day with a col­lo­quy of friends in the ven­er­a­ble Uni­ver­si­ty city of Oxford, cen­tred around a vis­it to the Muse­um of the His­to­ry of Sci­ence to see their Steam­punk Art exhi­bi­tion.
I'd been past this build­ing before – it's the orig­i­nal home of the Ash­molean – but nev­er inside. Turns out it's a won­der­ful lit­tle muse­um on about three floors and a ver­i­ta­ble store­house of ancient sci­en­tif­ic instru­ments of all shapes and size, with an empha­sis on brass and the odd bit of mahogany.
The muse­um would be worth vis­it­ing at any time just to take in the devel­op­ment of sci­en­tif­ic and tech­no­log­i­cal instru­ments over the last few hun­dred years – there are micro­scopes, tele­scopes, astro­labes, elec­tri­cal machines and a great deal more – but it also made the per­fect loca­tion for the first UK muse­um exhib­it of Steam­punk Art, which runs until Feb­ru­ary 21, 2010. I would rec­om­mend a vis­it if you're in the area or can arrange to be.
Steam­punk, one could say, is a genre that imag­ines what might have hap­pened if the tech­nol­o­gy of the 19th cen­tu­ry had not been eclipsed by that of the 20th. It's Jules Verne and H G Wells' vision of tech­nol­o­gy; you also get a cer­tain feel­ing of it from Oxfor­dian Philip Pull­man's His Dark Mate­ri­als trilogy.
Thus the base­ment of the Muse­um is cur­rent­ly filled with all man­ner of mys­te­ri­ous con­trap­tions with glow­ing incan­des­cent fil­a­ments, whirling (or poten­tial­ly whirling) mech­a­nisms, and mechan­i­cal pros­thet­ics. Some of them are shown in the accom­pa­ny­ing photographs.
I was joined by Oxford res­i­dent Pol­ly (with whom I work on Design­ing Worlds), Lynne (my col­lab­o­ra­tor on the iPhys projects for Sun­der­land City Col­lege) and her hus­band Richard, and also, at least for part of the day, by Ann and Knick who it was love­ly to see again and kind­ly put me up for the weekend.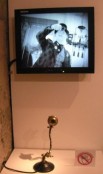 After the exhi­bi­tion and some refresh­ment, we took in the last full day of a fas­ci­nat­ing exhi­bi­tion on book-bind­ing at the Bodleian, fol­lowed by the open-top bus tour of the city, which is worth the effort. Mid-after­noon we end­ed up at Black­wells' where we all seemed to acquire a set of John Grant's series of sci­ence books, Dis­card­ed, Cor­rupt­ed and Bogus Sci­ence. We then retired to the cof­fee shop upstairs to dis­cuss falling stan­dards in British sec­ondary and fur­ther education.
In the evening, an excel­lent din­ner at the Trout in Wolvercote.