Category —
Environment
We want­ed to install solar pan­els for years — in my case decades, since I was involved in the "Alter­na­tive Tech­nol­o­gy" mag­a­zine Under­cur­rents in the 1970s. In the past, the idea of a solar PV sys­tem has just been too expen­sive (friends down the street paid £15,000 for their sys­tem just a few years ago), but we'd been watch­ing prices fall until, by the mid­dle of 2014, it looked as if prices had fall­en to an afford­able level.
We inter­viewed four com­pa­nies and it quick­ly became evi­dent that the height of the roof would­n't allow the con­ven­tion­al 16 pan­els in two rows "por­trait" style that is com­mon for a 4kWp sys­tem – they would have to be mount­ed too close to the top and bot­tom of the roof (you need 500mm clear­ance all round — oth­er­wise you can risk less sta­bil­i­ty in high winds). We could, how­ev­er, man­age two rows of six, "land­scape" style. The com­pa­nies we talked to var­ied in the amount of work they did spec­i­fy­ing the instal­la­tion, and I regard actu­al­ly get­ting up into the loft and tak­ing real mea­sure­ments as an indi­ca­tor that the installer is worth considering.
The lim­i­ta­tion of 12 pan­els imme­di­ate­ly made the choice a rel­a­tive­ly sim­ple one. We need­ed high effi­cien­cy pan­els, and the Sun­Pow­er design, it was easy to see from the data sheets, was not only supe­ri­or in engi­neer­ing terms (they are not only more effi­cient, but they have a stur­dy back­plane sys­tem with no bus­es run­ning down the front of the pan­els, mak­ing them less prone to dam­age; and if a cell does get dam­aged, it does­n't take the whole row out or worse), it also enabled us to install a sys­tem that would deliv­er a lit­tle under 4kWp from just 12 pan­els. Per­fect! Two com­pa­nies out of the four had offered us Sun­Pow­er pan­els. One was an enor­mous sup­pli­er in the Mid­lands that in fact I would rec­om­mend for any­one look­ing for a com­mer­cial instal­la­tion, but they were rather expen­sive — sig­nif­i­cant­ly more than any of the others.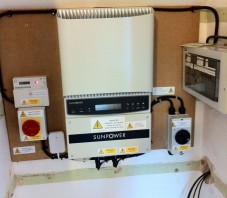 We select­ed our sup­pli­er, Solar­works of Laven­ham in Suf­folk, who have been installing renew­able sys­tems since 1983. Just a cou­ple of weeks lat­er the scaf­fold­ing arrived and while it was set up, Solar­works fit­ted the invert­er – an ABB "Uno" sin­gle-phase mod­el – and asso­ci­at­ed switchgear in the clos­et under the stairs (see pic­ture left — note the black rotary switch bot­tom right, which is a prop­er DC iso­la­tor on the input path from the pan­els — which were still to be hooked up when this pic­ture was tak­en). Above the AC iso­la­tor on the left is the Gen­er­a­tion Meter. The next day, they installed the mount­ing rails on the roof. Because our pan­els were to be mount­ed hor­i­zon­tal­ly, the rails were ver­ti­cal and each of the 12 was attached to a dif­fer­ent rafter, giv­ing excep­tion­al strength.
The fol­low­ing day, the pan­els went up, and as soon as they were con­nect­ed, by mid-late after­noon – in two strings of six each – the invert­er was indi­cat­ing that we were gen­er­at­ing 3.6kW of elec­tric­i­ty. And the sto­ry has con­tin­ued, with the sys­tem reg­u­lar­ly gen­er­at­ing more kWh than we use in an aver­age day. This year, we saw the out­put exceed 3.7kW as ear­ly as March! (Which sur­prised me in fact, as you would have thought there would be loss­es between the 3.9kWp nom­i­nal pan­els and the invert­er.) The instal­la­tion, just after com­ple­tion, is shown above.
We're very pleased with the results and would rec­om­mend both Sun­Pow­er pan­els and Solar­works as an installer.
We sub­se­quent­ly had our old Fer­ran­ti rotat­ing-disc import meter replaced so that it would­n't go back­wards. The lat­ter sounds like a cool thing but actu­al­ly isn't, because you are already being paid for the elec­tric­i­ty you are export­ing and the elec­tric­i­ty sup­pli­er can claim it back ret­ro­spec­tive­ly; plus I want­ed a mod­ern meter with an LED indi­ca­tor on to which I could strap a counter for metering.
The meter­ing sys­tem I installed came from Geo (Green Ener­gy Options) in Cam­bridge. It mea­sures the pow­er out­put from the pan­els (via the flash­ing light on the Gen­er­a­tion Meter), the amount import­ed from the Grid (via the flash­ing light on the new Import Meter), and the raw cur­rent flow in or out of the build­ing (from a clip around the main pow­er input cable), and cal­cu­lates a range of data from those raw inputs. Very nice. On the dis­play shown here, the blue curve rep­re­sents the out­put from the pan­els (quite good for an over­cast day, I think) and the orange is the amount of ener­gy we're using – these val­ues are shown numer­i­cal­ly in the cen­tre left of the dis­play. The lit­tle blue arrows at the bot­tom show we are export­ing elec­tric­i­ty, and the lit­tle green wave­form above the wattage dis­plays indi­cates that we have enough "free" pow­er to run a major appli­ance such as a wash­ing machine or dish­wash­er, with­out effec­tive­ly pay­ing for it; and on the right is our elec­tric­i­ty usage so far today and how much our income from gen­er­a­tion and our spend have been. The sys­tem is con­nect­ed to the Inter­net so you can remote­ly mon­i­tor sys­tem per­for­mance via the Web.
Our elec­tric­i­ty sup­pli­er is Ecotric­i­ty, and set­ting up for their Microtric­i­ty scheme to receive the Feed-in Tar­iff (FiT) was sim­ple to do. Now they are often bank­ing with me, and have had to revise my elec­tric­i­ty pay­ments down sig­nif­i­cant­ly as a result.
Hav­ing had the pan­els installed for almost a year, it looks as if we are run­ning some­what ahead of sched­ule as far as these pan­els pay­ing for them­selves is concerned.
Leona helped to co-ordi­nate resources at the 9th World Wilder­ness Con­gress (WWC), in Meri­da, Mex­i­co between the 6th and 13th of November.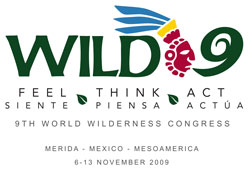 "Launched by The WILD Foun­da­tion in 1977, the World Wilder­ness Con­gress (WWC) is now the longest-run­ning, pub­lic, inter­na­tion­al envi­ron­men­tal forum. With over 30 years of con­ser­va­tion achieve­ments, the WWC has become a high-pro­file plat­form for act­ing on com­plex wilder­ness and wild­lands issues.
"WWCs include senior-lev­el rep­re­sen­ta­tion from gov­ern­ments, the pri­vate sec­tor, native peo­ples, non-gov­ern­men­tal orga­ni­za­tions, acad­e­mia and the arts in a struc­ture care­ful­ly designed to bring togeth­er the full spec­trum of wilder­ness-relat­ed views. Broad-based par­tic­i­pa­tion, com­bined with the spir­it of open and bal­anced debate, cre­ates a con­struc­tive, objec­tive ori­ent­ed envi­ron­ment, and gen­er­ates prac­ti­cal con­ser­va­tion outcomes.

"The Con­gress con­venes every three to four years around the world. Past WWCs have been held in South Africa (1977, 2001), Aus­tralia (1980), Scot­land (1983), USA (1987, 2005), Nor­way (1993), and India (1998).

"Since its ori­gins, the World Wilder­ness Con­gress has been a result-ori­ent­ed con­ser­va­tion project that begins long before the actu­al con­ven­tion of del­e­gates takes place, and WILD 9 will be no dif­fer­ent. In the months lead­ing up to Meri­da, sev­er­al com­mit­tees, groups, agen­cies and orga­ni­za­tions are work­ing on mod­els, objec­tives and tar­gets that address a glob­al agen­da and aim to achieve prac­ti­cal con­ser­va­tion results through a diverse and inter­est­ing pro­gram –with a Latin rhythm!"
Click here for more infor­ma­tion.
Last day's feed from the Congress:
Video clips at Ustream
A work­shop with Leona Gra­ham and Penn Kemp, Sun­day, Octo­ber 4, 2009, 10:00 am–5:30 pm, Lon­don, Ontario.

An expe­ri­en­tial work­shop ded­i­cat­ed to empow­er­ing the indi­vid­ual to attune to our Great Moth­er Earth and life-sus­tain­ing, enhanc­ing val­ues. Par­tic­i­pants will emerge ground­ed in real­is­tic ways and means to face these crit­i­cal times where the choic­es we make can make all the difference.
How are the arts rel­e­vant to sus­tain­abil­i­ty? How can we artic­u­late our con­vic­tions in ways that move the read­er to action? We will help empow­er you to write with a short read­ing to encour­age you in your own work. A series of exer­cis­es on cre­ativ­i­ty will give par­tic­i­pants direct expe­ri­ence and prac­ti­cal sug­ges­tions for spurring the imag­i­na­tion and hon­ing writ­ing skills. Inspi­ra­tion will present itself through the kind of coach­ing that is only pos­si­ble in a small group and in the safe set­ting we provide!
Leona and Penn share deep com­mon ground through decades of friend­ship and shared expe­ri­ence in var­i­ous realms: the lit­er­ary arts; com­mu­ni­ty and peace activism; con­ser­va­tion and deep ecology.
For­mer aca­d­e­mics, we have each sup­port­ed our­selves out­side the main­stream com­mer­cial com­plex since the ear­ly 70's. Despite the Atlantic often between us, we have long nav­i­gat­ed and main­tained a syn­er­gy of shared dimen­sions. As co-cre­ators, we are involved in con­nect­ing envi­ron­men­tal pol­i­tics with god­dess spir­i­tu­al­i­ty both in our own writ­ing and through work­shops around the world (includ­ing Glas­ton­bury and Findhorn).
As lis­ten­er-con­ven­ers, Leona and Penn cre­ate an expan­sive but prac­ti­cal field of pos­si­bil­i­ties for and with the group.
525 Can­ter­bury Road, Lon­don, Ontario, Canada.
Con­tact: +1 519 434 8555, penn[at]pennkemp.ca or leona[at]brideswell.com – or use the Con­tact Form.
About Leona:
Born in Hal­i­fax dur­ing WW2
Edu­cat­ed: Med­way & Oakridge High Schools, UWO (BA/MA), PhD Stud­ies UBC
Cold War Mil­i­tary ser­vice 1959-ear­ly 60's: RCAF & RCN ®
Her (now 95 year-old) feisty mum in Lon­don, Ontario, Cana­da, helped moti­vate Leona become an ear­ly envi­ron­men­tal activist when she brought home a copy of Rachel Carson's ground­break­ing Silent Spring (1962). Like many oth­ers she became deeply involved in 'Pol­lu­tion Probe' and 'Whole­food Coop' type efforts, pre­sag­ing the larg­er eco­log­i­cal-con­ser­va­tion move­ment. The birth of a daugh­ter pro­vid­ed fur­ther moti­va­tion. Before aban­don­ing her suc­cess­ful aca­d­e­m­ic teach­ing career, Leona turned her '60's uni­ver­si­ty stu­dents onto envi­ron­men­tal and oth­er good caus­es. She embraced full-time activism, head­ing off round the world to see how the oth­er half lived (not very well), and final­ly set­tled down (in the 70's) in the Find­horn Com­mu­ni­ty in NE Scotland—an organ­ic eco-vil­lage, found­ed, in the same year as Rachel's book appeared—its roots based in 'Coöper­a­tion with Nature'—a hands-on but 'spir­i­tu­al' focus. 'Find­horn' and its eco-projects have remained a con­stant fac­tor through the years, despite stints spent in oth­er spe­cial com­mu­ni­ties round the world, includ­ing Glas­ton­bury (Eng­land): found­ing the Sus­tain­able Liv­ing Com­pa­ny from an eco-char­i­ta­ble enter­prise called The Wise Crone Café (Glas­ton­bury Fes­ti­val) as well as help­ing found and devel­op var­i­ous cul­tur­al enti­ties: The Library of Aval­on, The Assem­bly Rooms Project, The Isle of Aval­on Trust, The God­dess Tem­ple, Ari­adne Pro­duc­tions and the spec­tac­u­lar annu­al The God­dess Con­fer­ence (where once again this year she is pre­sent­ing). She has also sup­port­ed com­mu­ni­ty and envi­ron­men­tal activism in Ojai and Topan­ga Canyon (Cal­i­for­nia). She now lives in a small fen vil­lage in Cam­bridgeshire UK, con­tin­u­ing her envi­ron­men­tal work on a local and national/international basis. Through the years she has been involved in a vari­ety of inter­na­tion­al con­ser­va­tion orga­ni­za­tions as Inter­na­tion­al Pro­gram Direc­tor at The WILD Foun­da­tion (USA), help­ing run two World Wilder­ness Con­gress­es (1983 in Scot­land & 1997 in India) and the Chee­tah Con­ser­va­tion Fund (CCF) (Namibia/ USA/ UK/ Canada/Japan). Both WILD's and CCF's work include a strong 'eco-vil­lage' aspect as they are involved in on-the-ground com­mu­ni­ty-build­ing. And of course, in any spare time she has, she con­tin­ues to write poetry.
About Penn:
Penn is an enthu­si­as­tic prac­ti­tion­er of the cre­ativ­i­ty she teach­es. She has been giv­ing work­shops for forty years. Her years of Bud­dhist prac­tice has led her to give dozens of work­shops on Saras­vati ( Hin­du and Bud­dhist deity of the arts), "Inspi­ra­tion" and on "Invok­ing Your Muse". An intrigue with ancient mythol­o­gy has tak­en her on many jour­neys, in search espe­cial­ly of Black Madon­nas in all their guis­es. Pen­n's fas­ci­na­tion with Egypt led her to vis­it twice, once with oth­er meta­phys­i­cal teach­ers, and again as tour leader. Her lat­est CDs are"Helwa!", from Suite Ancient Egypt 'and Dark­ness Vis­i­ble. You can read more on http://www.library.utoronto.ca/canpoetry/kemp/ and www.myspace.com/pennkemp. Sec­tions of What Springs to Mind, her book on cre­ative writ­ing, are up on www.mytown.ca/whatspringstomind. The Asso­ci­a­tion of Cana­di­an Stud­ies and the Cana­da Coun­cil spon­sored Pen­n's read­ing tours through­out India and Brazil. She has per­formed at arts fes­ti­vals and con­fer­ences around the world, includ­ing two Find­horn Arts Fes­ti­vals and the Glas­ton­bury God­dess Con­fer­ence. She is Cana­da Coun­cil writer-in-res­i­dence at the Uni­ver­si­ty of West­ern Ontario, 2009-10.
Invest­ment in You (North Amer­i­can lin­go for fee): $100. Before Sep­tem­ber 1: $60.
As spaces in the work­shop are very lim­it­ed, your place will be reserved as soon as we receive your payment.
Please send your cheque to Pen­das Pro­duc­tions, 525 Can­ter­bury Road, Lon­don ON N6G2N5.
No refunds, sorry.
Leona Gra­ham will be pre­sent­ing a paper/experience at this unique con­fer­ence, to be held in Toron­to from Octo­ber 22–25, 2009 and spon­sored by the Asso­ci­a­tion for Research on Moth­er­ing (ARM) in con­junc­tion with York Uni­ver­si­ty's 50th Anniver­sary Cel­e­bra­tion. The title of her talk is The Great Return­ing. More to follow!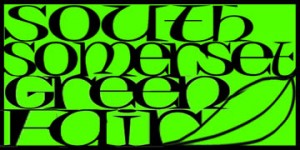 Connect/Community/Change — CCC. Car­o­line Bar­ry, Les­ley Dock­sey and Leona Gra­ham have joined up to devel­op a project to help in the trans­for­ma­tion of the envi­ron­men­tal 'Tran­si­tion' move­ment — from a non-sus­tain­able to a sus­tain­able future.
The group had a stand at the upcom­ing South Som­er­set Green Fair & Scythe Fes­ti­val at Thor­ney Lake, near Langport/Glastonbury, Som­er­set on Sun­day 14 June 2009. We were there to lis­ten - and from thence to action. It was high­ly suc­cess­ful and lots of fun to boot!
We can do it; we can find a way, in each of our com­mu­ni­ties: we have the pow­er and the means.
The wind farm in the head­er is not there because we are direct­ly involved in wind farms or the tech­nol­o­gy behind them, but because we think they are in inspir­ing sight, and act as a sym­bol of the moves we all need to take towards renew­able gen­er­a­tion and low­er car­bon emis­sions if we're not going to see the end of civil­i­sa­tion in just a few decades.
These tur­bines are in the Fens a few miles away from us. We would have no com­punc­tion what­so­ev­er about hav­ing one in our back yard. Our friends up at Find­horn have four in their back yards: they are vir­tu­al­ly silent — even up close — and they pro­duce more elec­tric­i­ty than the com­mu­ni­ty uses, so they make a prof­it. That's the way to do it, in our view: com­mu­ni­ty invest­ment in wind farms brings an imme­di­ate tan­gi­ble ben­e­fit to local peo­ple as well as poten­tial ener­gy independence.