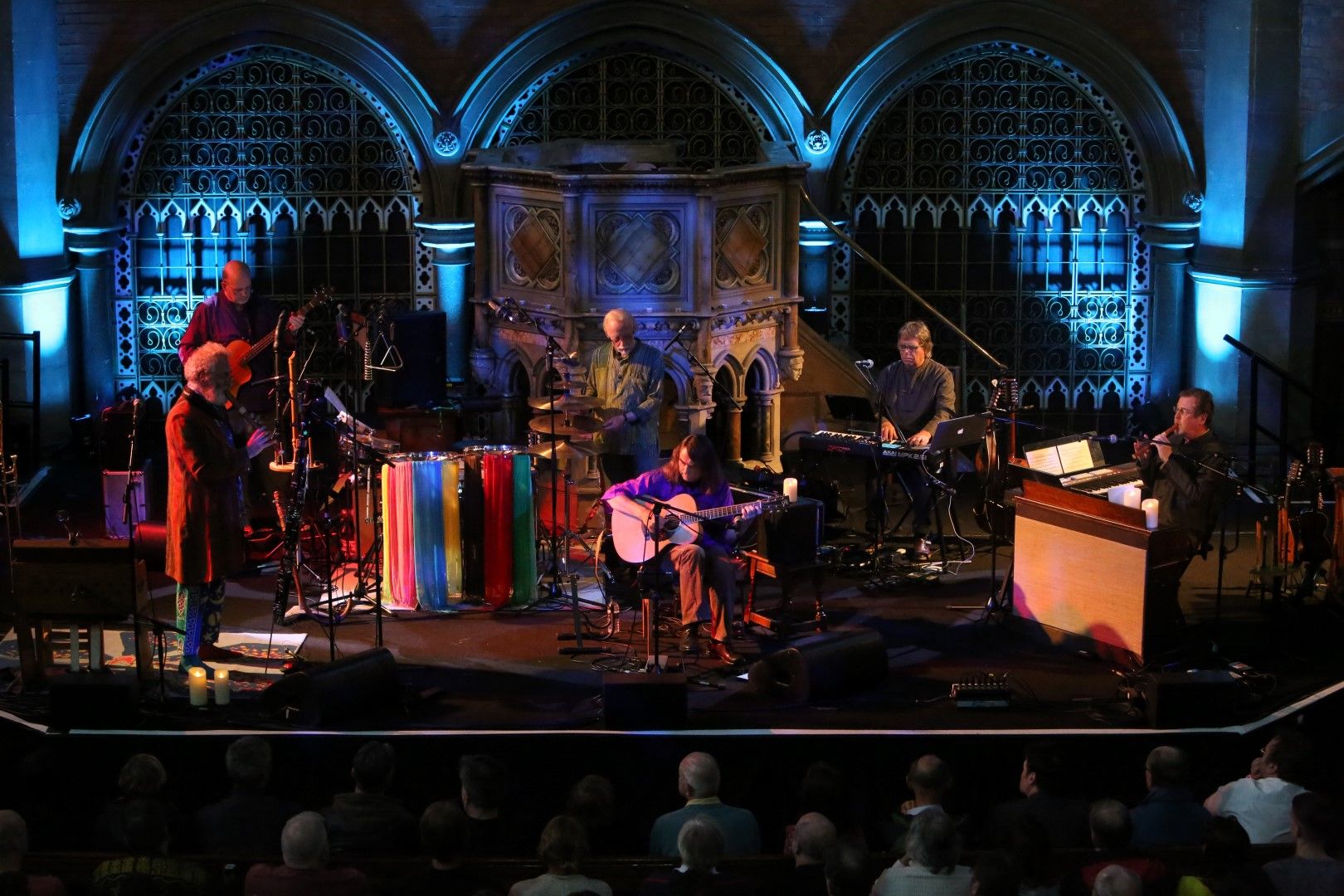 Wednesday May 13th saw a performance by Gryphon at the Stables near Milton Keynes. The gig was one of a relatively brief series of performances under the banner "None the Wiser" that the band, originally active in the 1970s, re-formed to give.
The personnel on the tour represented a fair approximation to the original lineup of Brian Gulland (bassoon, Renaissance woodwinds, vocals and a touch of keyboard), Jon Davie (bass), Dave Oberlé (percussion and vocals), Graeme Taylor (guitars), and Richard Harvey (keyboards, woodwinds, mandolin, clarinet, Renaissance woodwinds, dulcimer, ukulele, flute), augmented by an additional talented multi-instrumentalist and composer in the form of Graham Preskett (keyboards, violin, 12-string guitar, viola).
The tour culminated with a performance at the Union Chapel in London, which I would love to have attended: the picture above (by Julian Bajzert, used by permission) was taken there (the band appears almost in the order listed above, but with Richard Harvey far right).
The Stables, not a location I've visited before, is an impressive venue, although perhaps best suited to theatrical work. The stage layout required the PA to be placed perilously close to the band – and to Richard Harvey in particular – which mean that a number of high-gain mics were pointing more or less directly at the PA. Speaking from experience as Gryphon's sound engineer (live and in the studio, during 1974-75) the band is tricky to mix at the best of times, with its unique combination of "soft" and "loud" instruments (as they would have been called in the Renaissance period) and a nearby PA no doubt made the mix at the Stables difficult in the extreme.
For those who have not encountered Gryphon previously, the band began in the early 1970s when Royal College of Music graduates Richard Harvey and Brian Gulland started as a duo playing traditional English folk with Renaissance and mediaeval tendencies. They were soon joined by guitarist Graeme Taylor and percussionist Dave Oberlé, and then by bass-players Philip Nestor, Malcolm Markovich, formerly Bennett, and finally (1975-77) Jonathan Davie.
Their first (eponymous) album, recorded in 1973 by Adam Skeaping on 4-track in a tiny studio in Barnes, combined lively approaches to traditional songs flavoured with recorders and crumhorns – earning the band a "Mediaeval Rock" label – with some original material by Harvey.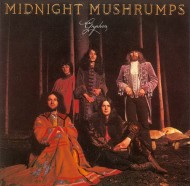 The second album, Midnight Mushrumps (1974), featured a side-long suite based on the band's music for Sir Peter Hall's The Tempest at the Old Vic. The third, Red Queen to Gryphon Three (also 1974) featured a 4-part suite theoretically based on a game of chess. This was followed by Raindance in 1975 and finally, following a move from Transatlantic Records to EMI/Harvest, Treason in 1977 – after which the band was sadly eclipsed, as were many talented British artists at the time, by so-called "new wave" artists who eschewed instrumental virtuosity.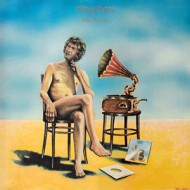 I was lucky enough to work with the band as their sound engineer on the road and often in the studio, covering a college tour in mid-1974, the US 1974 and UK 1975 tours as support band to Yes, and culminating in recording and co-producing Raindance at Sawmills studios in Golant, Cornwall, across midsummer 1975.
There had always been hopes in several quarters that some incarnation of the band would get back together at some point, and the outfit has always had a loyal and extensive internet following. The albums are all available, along with additional albums covering BBC sessions and "lost tracks" (such as those we recorded for Raindance but were not allowed by the record company to include on the album – yes, it still annoys me). Hopes for a reunion were granted in 2009 with a one-off concern at the Queen Elizabeth Hall in London which was exceptionally well-received, and saw the addition to the lineup of composer and multi-instrumentalist Graham Preskett for the first time.
The May 2015 tour, in preparation for some time, was relatively limited in extent but did enable a good many people to get to one of the very well-attended performances.
The first half of the Stables performance consisted primarily of pieces from the first album – kicking off, appropriately enough, with Opening Number, followed by the cautionary tale of The Astrologer with vocals by Oberlé in fine form, then an instrumental melange of the traditional Kemp's Jig and a mediaeval Estampie. This was followed by the band's rendering of a personal favourite, also with vocals by Oberlé , The Unquiet Grave, an English folk song (Child Ballad 78) dating back to around 1400 in which a young man mourns his dead lover to a somewhat excessive degree, to which Gryphon add a particularly eerie middle section. Listeners to this piece with a classical background may note that the tune Gryphon use for this song (several tunes have been used traditionally) is also commonly associated with Dives & Lazarus (Child Ballad 56 – see Vaughan Williams' variations on this theme).
Next up was a rendering by Graeme of his solo piece, Crossing the Stiles. All Graeme's pieces for the band were tricky in one way or another and often complex, and hearing him perform this, one can only conclude that his guitar virtuosity has somehow increased over the years: his playing was exceedingly impressive.
It was followed by what I believe was the first live performance of Richard Harvey's original composition from the first album, and the track that turned me on to the band all those years ago, when a friend played me this unknown track he had recorded from a John Peel programme: Juniper Suite. If it hadn't been noticeable earlier in the set, it rapidly became clear here how beneficial the addition of Graham Preskett to the original lineup has been: the presence of extra keyboard resources, for example, freed Richard Harvey to focus more on his world-leading woodwind expertise, and made doing pieces like Juniper Suite live possible. Preskett, like Harvey, is also an excellent multi-instrumentalist, and the addition of violin and viola, for example, made quite an impressive difference at times, adding textures that were not previously part of the Gryphon sound but that fitted in exceptionally well.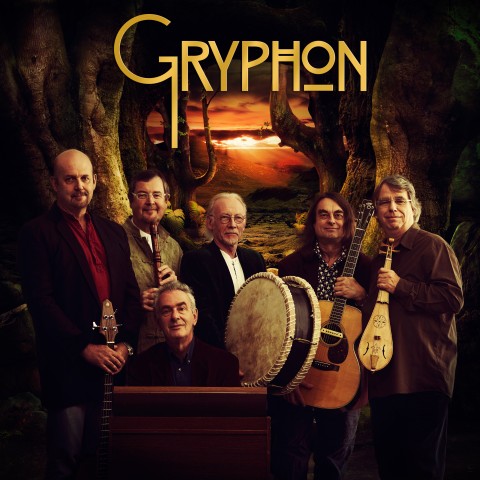 During the course of the first set we also enjoyed some surprisingly 'basso profundo' vocals from Brian Gulland as well as his woodwinds and organ work. The ensemble piece Dubbel Dutch – a miniature suite in itself – from the second album closed the first half.
The second half opened with a version of Midnight Mushrumps in all its album-side length glory, that often sounded pretty much exactly as it did when I mixed it live myself over 40 years ago.
The band then played one of my favourite 'lost' tracks, Ashes, which we originally recorded at Sawmills in 1975 for the Raindance album but which never made it on to the disc – and to my great surprise and pleasure, Brian very kindly dedicated it to me, which was extremely heart-warming. Thanks, guys! (The original recording is on the second Collections disc if you want to check it out.)
The set continued with a couple of excerpts from Red Queen to Gryphon Three – one based on Lament and then a medley of other themes from the album, all of which were expertly performed throughout, with plenty of Harvey recorder twiddly bits and some great bass-playing from Jon Davie, while Dave Oberlé fired off impressive rounds of percussion as appropriate. Indeed, the phrase 'virtuouso performances' can happily be applied to everyone in the band and to the whole set.
Encores included a marvellous new suite of rocked-up Renaissance dances of the kind for which Gryphon are perhaps traditionally best-known, outclassing even the likes of The Bones Of All Men and in this case relying quite a bit on Michael Praetorius's Terpsichore, followed by a remarkable piece that, starting off from a certain Cambrioleur (Le Cambrioleur est Dans le Mouchoir, from Raindance), wove together several disparate threads including George Gershwin's Promenade (Walking the Dog), and featured some exquisite clarinet work from Harvey, exchanging rapid-fire lines with Preskett, to end with a spirited interpretation of the very early 20th century jazz standard Tiger Rag.
Overall, I found it a magnificent and quite magical performance from everybody concerned.
Main image: Gryphon at Union Chapel, London, May 2015, by Julian Bajzert, used by permission. L to R: Brian Gulland, Jon Davie, Dave Oberle, Graeme Taylor, Graham Preskett, Richard Harvey