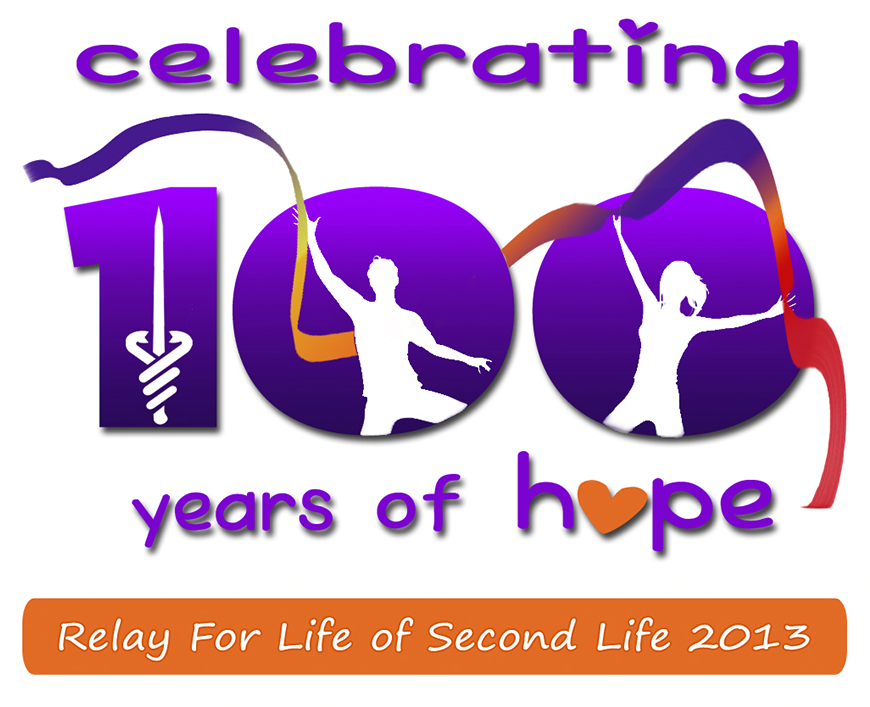 I love Shakespeare, but I've never really thought of performing any.
However when we were preparing for the Relay For Life of Second Life Telethon, several members of the team were invited to record a series of poems to be played during the Luminaria ceremony (one of the most moving parts of the event).
The Luminaria Ceremony occurs at every Relay For Life event, whether in the organic world, or as in our case, in a virtual world. As the sun sets, luminaria lining the track light up the night. A hush falls over the crowd that had been overflowing with celebration. Participants, survivors, and caregivers then gather to remember loved ones lost to cancer and to honour those whose fight continues. The ceremony in Second Life included a wonderful additional feature: the releasing of illuminated Chinese lanterns into the night sky (see Beq's picture above, taken in front of her amazing Escher build that you can just make out).
The official commentary is carried by T1 Radio, and they read a list of names, between which they play pieces of music. Now, they have a licence to play commercial records, but we don't, so this year they kindly gave us a running order and timings and we were able to determine what was to go in the slots occupied by music in their coverage, so we could "opt out" to our own audio programming. This was the purpose of the pre-recorded poems. Members of our team put these recordings together with production music (mainly by Kevin MacLeod, see credit below) to create a series of really beautiful sequences, which I will hopefully be able to link to for you shortly where they'll have full credits – they're being assembled into a series of short videos accompanied by images of this year's campsites.
One of the two pieces I chose to record was this speech from Prospero in The Tempest:
Our revels now are ended. These our actors,
As I foretold you, were all spirits, and
Are melted into air, into thin air;
And, like the baseless fabric of this vision,
The cloud-capped towers, the gorgeous palaces,
The solemn temples, the great globe itself,
Yea, all which it inherit, shall dissolve;
And, like this insubstantial pageant faded,
Leave not a rack behind. We are such stuff
As dreams are made on, and our little life
Is rounded with a sleep. (IV.i.148–158)
In addition to sending the voice-only recording off to the guys for incorporating in the sequence, I found a piece of music [Virtutes Instrumenti, Composed and performed by Kevin MacLeod (incompetech.com) Licensed under Creative Commons: By Attribution 3.0 http://creativecommons.org/licenses/by/3.0/] and ran it under the voice recording. As it will never be used for anything, here it is, and I hope you like it: