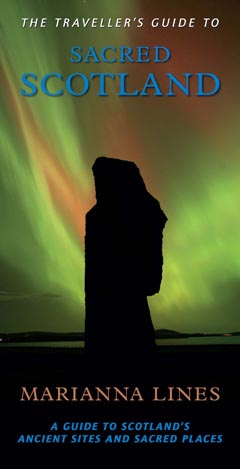 We're pleased to be able to tell you about the new book from our friend Marianna Lines. An authority on ancient sites, especially in Scotland where she lives, Marianna is also a talented artist. Her book is available now from all the usual places, including your local bookstore and those online people who don't pay their taxes. The Traveller's Guide to Sacred Scotland is published by Gothic Image in Glastonbury.
The Traveller's Guide to Sacred Scotland
A Guide To Scotland's Ancient Sites and Sacred Places
Marianna Lines
Buy from the publishers, Gothic Image
The first guidebook to weave together the cultural, historical and spiritual aspects of this fascinating country, it will enhance the experience of the armchair traveller as well as any pilgrim to the ancient magical land of Scotland.
Scotland has a rich prehistory stretching from Neolithic times through the Bronze and Iron Ages. She has islands from the magnificent Orkneys and Shetlands to the Outer Hebrides and the Uists, the Isle of Skye and the Inner Hebrides. Each one is renowned for its ancient sanctity. Scotland was home to many different cultures including the Norse, Picts and Celts. She has a particularly unique and stunning landscape with holy mountains, spectacular lochs and sacred trees. The Highlands with their Pictish settlements and carved standing stones offer yet another kind of awe-inspiring beauty. Fairy folklore, poets and bards, Arthurian and Merlin related sites, Celtic Christian foundations and their Saints are all to be found in this land.
This guidebook not only takes the reader on an inspiring journey of discovery into Scotland's past, but, also, offers directions to places regarded by Scots themselves of special importance, what they mean and their relevance today.
Published : 03/11/2014
ISBN : 9780906362761
Format : Paperback
Imprint : Gothic Image Publications
Size (mm): 110 x 215
Category: Travel
Pages : 500
Price £16.99