About Richard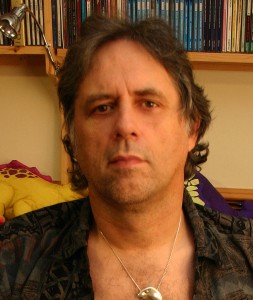 Born in Eng­land in the early 1950s, Richard G. Elen has been writ­ing pro­fes­sion­ally for over a quar­ter of a cen­tury, and has launched, edited and con­tributed to lead­ing music, record­ing and tech­nol­ogy jour­nals on both sides of the Atlantic. He has also been a record­ing engi­neer and pro­ducer, a part­ner in an adver­tis­ing agency and a mar­ket­ing exec­u­tive, and was one of the first to begin to develop the Internet's World Wide Web for musi­cians and non-profits. Today he is a broad­caster in both the real and vir­tual worlds, lec­turer, voiceover tal­ent and audio producer.
For the long ver­sion, read on…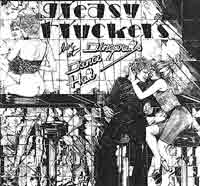 Album cover of Greasy Truck­ers Live at Ding­walls.
In the early Sev­en­ties, Richard became an Assis­tant Record­ing Engi­neer at Island Records' Bas­ing Street Stu­dios, one of London's major record­ing facil­i­ties. He was pro­moted to Engi­neer sta­tus in 1974. The same year he went free­lance, and com­pleted his first project as a record pro­ducer, Greasy Truck­ers Live at Ding­walls, which he also engineered.
Fol­low­ing his ini­tial suc­cess in the record­ing stu­dio, Elen went on the road, per­form­ing live sound mix­ing for the band Gryphon dur­ing UK and US tours sup­port­ing the band Yes. His next major project was a series of record­ings and tours with Gryphon, cul­mi­nat­ing in an album release (Rain­dance) in the Autumn of 1975.
Fol­low­ing a stay in Los Ange­les, Richard took a posi­tion in 1976 as Stu­dio Manager/Chief Engi­neer with EMI Music Pub­lish­ing, man­ag­ing KPM Stu­dios, their Cen­tral Lon­don mul­ti­track record­ing facil­ity. This stu­dio was also where he began his long rela­tion­ship with the KPM Pro­duc­tion Music Library, work­ing with a num­ber of their top com­posers includ­ing the internationally-famous com­poser Keith Mans­field, pro­duc­ing music for use in TV and radio com­mer­cials, doc­u­men­taries and movies. Music recorded and co-produced by Richard Elen has appeared in such movies as Back To The Future II and The Fourth Pro­to­col, and in addi­tion has found a place in numer­ous TV series includ­ing world-famous doc­u­men­taries such as wildlife films by Sur­vival Anglia and other lead­ing film-makers. In addi­tion he has recorded and pro­duced or co-produced over five dozen albums — both vinyl and Com­pact Disc — for KPM Music, includ­ing a num­ber of his own compositions.
In 1978, Richard started a mag­a­zine for pro­fes­sional musi­cians and record­ing engi­neers. This title, Sound Inter­na­tional, was launched in April 1978.
Richard had already gained a good deal of expe­ri­ence in writ­ing pro­fes­sion­ally, includ­ing an involve­ment with the tech­nol­ogy mag­a­zine Under­cur­rents in the mid-Seventies and pub­lished arti­cles in hi-fi and pro-audio jour­nals such as Hi-Fi News and Elec­tron­ics Today Inter­na­tional.
In Sep­tem­ber 1980, Richard became Edi­tor of Stu­dio Sound, at the time the world's lead­ing pro­fes­sional record­ing jour­nal. He also launched a new mag­a­zine, Broad­cast Sound, aimed at the pro­fes­sional broad­cast­ing industry.
In 1984 Richard founded Cre­ative Tech­nol­ogy Asso­ciates (CTA). One of Richard's first projects under the Cre­ative Tech­nol­ogy name was as a con­sul­tant to Neve Elec­tron­ics, then one of Britain's lead­ing record­ing con­sole man­u­fac­tur­ers. He also worked with Neve's PR agency to launch the company's ground-breaking line of all-digital record­ing consoles.
Richard acted as a Pub­lic Rela­tions Con­sul­tant to a num­ber of com­pa­nies, includ­ing Apple Com­puter (UK) Ltd (for whom he pro­duced a monthly tech­ni­cal sup­port newslet­ter); EMI's world-famous Abbey Road Stu­dios; and Sound­craft Elec­tron­ics (part of the US-owned Har­man Inter­na­tional group of pro­fes­sional audio com­pa­nies). He also began to write copy and design adver­tise­ments for sev­eral top com­pa­nies in the pro­fes­sional audio field.
In the mid-Eighties he worked with the Asso­ci­a­tion of Pro­fes­sional Com­posers, a lead­ing UK music indus­try body of which he is a mem­ber, to edit and pro­duce the first edi­tion of a sem­i­nal work on music pub­lish­ing and copy­right, The Com­posers' Guide to Music Pub­lish­ing. This was highly suc­cess­ful and Elen again edited, part-wrote and worked on the pro­duc­tion of the com­pletely revised and expanded Sec­ond Edi­tion, pub­lished in 1994.
Hav­ing devel­oped a sig­nif­i­cant name in the pro­fes­sional audio and record­ing indus­tries, Richard has been invited to lec­ture and write on pro-audio top­ics over the years by a num­ber of orga­ni­za­tions. In 1984 he was invited by MusicWeek mag­a­zine (the UK equiv­a­lent of Bill­board) to lec­ture to record com­pany exec­u­tives on the ben­e­fits and pit­falls of dig­i­tal audio tech­nol­ogy and Com­pact Disc. Later that year he was invited by the US Soci­ety of Pro­fes­sional Audio Ser­vices (SPARS), the record­ing industry's trade orga­ni­za­tion in the USA, to lec­ture at the Uni­ver­sity of Miami on the sub­ject of dig­i­tal audio. In par­tic­u­lar, he pre­sented a paper propos­ing a "Dig­i­tal Audio Record­ing Code" which would be printed on all Com­pact Discs and would indi­cate to con­sumers how dig­i­tal tech­nol­ogy was used in the mak­ing of any par­tic­u­lar CD. He was joined in this pro­posal by Chris Stone, then head of SPARS and owner of the major record­ing stu­dio in Cal­i­for­nia, Record Plant, and between them they final­ized what became known as the "SPARS Code". The code was accepted by the record com­pa­nies and still appears on many CDs today.
Richard Elen was invited to be one of a small num­ber of top indus­try per­son­al­i­ties to present awards at the inau­gu­ra­tion of the TEC Awards Cer­e­monies in New York in 1985. The annual TEC Awards, spon­sored by Mix Mag­a­zine, have devel­oped over the past two decades to become the lead­ing awards to man­u­fac­tur­ers and per­son­al­i­ties in the record­ing and pro-audio indus­tries. Richard Elen has sat on the Awards Panel for all the TEC Awards to date.
Already a mem­ber of the AES, Richard became an early mem­ber of the APRS British Record Pro­duc­ers' Guild, later re-named "Re-Pro". Elen has con­tributed chap­ters to the sec­ond, third and fourth (cur­rent) edi­tions of the stan­dard text­book on record­ing tech­niques, Sound Record­ing Prac­tice, pub­lished by Oxford Uni­ver­sity Press and con­tributed to by sev­eral of the top names in the UK record­ing indus­try for many years.
In the late 1980's Richard was invited to chair a sem­i­nar on com­put­ers and music at a major Lon­don com­put­ing con­fer­ence. He also pre­sented a paper at the conference.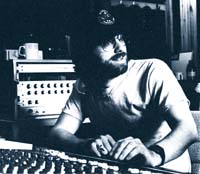 Richard in the stu­dio, some time in the 1980s, with Ambisonic equip­ment in the background.
Richard had been inter­ested for many years (since 1971 in fact) in a unique British surround-sound record­ing sys­tem called Ambison­ics, after meet­ing one of the system's orig­i­na­tors, the late Michael Ger­zon, at an IEEE meet­ing. He had been involved in the devel­op­ment of the sys­tem, under the aus­pices of a UK Gov­ern­ment body called the National Research & Devel­op­ment Cor­po­ra­tion for sev­eral years, begin­ning dur­ing his time at EMI Music, and had helped to design a series of record­ing stu­dio units to enable the sys­tem to be used in mul­ti­track recording.
Many of Richard's own record­ings use Ambisonic tech­nol­ogy, and he has pro­vided Ambisonic exper­tise and equip­ment for the pro­duc­tion of a num­ber of internationally-successful albums, includ­ing Stereotomy by the Alan Par­sons Project and Break Every Rule by Tina Turner. As a result of his suc­cess­ful involve­ment in this project, he was invited to lec­ture and hold work­shops on the sub­ject of Ambison­ics to stu­dents at the Uni­ver­sity of Surrey's Ton­meis­ter course. This is a four-year degree course for stu­dents who wish to enter the record­ing indus­try. Elen was also retained as a lec­turer from 1984 to 1987 on the Inter­na­tional Engi­neers' Train­ing Course, also at the Uni­ver­sity of Sur­rey, held by the Asso­ci­a­tion of Pro­fes­sional Record­ing Ser­vices (APRS), the UK record­ing industry's trade orga­ni­za­tion and equiv­a­lent of SPARS. His lec­tures included the­ory and prac­tice of surround-sound, and aspects of dig­i­tal record­ing and elec­tronic musi­cal instru­ments. Elen lec­tured over a period of three years at the Southamp­ton Insti­tute to first-year Mass Com­mu­ni­ca­tions degree stu­dents on the his­tory of the record­ing and broad­cast indus­try, mod­ern record­ing tech­niques, and elec­tronic musi­cal instruments.
From early on, Richard Elen has been an inter­net pio­neer. He had been involved in on-line com­mu­ni­ca­tions since the 1970s, and in the early 1980s had been a con­sul­tant to Inter­na­tional Man­age­ment Com­mu­ni­ca­tions Inc. The com­pany was the first to offer elec­tronic mail and other on-line ser­vices to the inter­na­tional music indus­try, and included many top artists, man­age­ment com­pa­nies, indus­try accoun­tants and lawyers as clients.
As part of his work with IMC, Elen pio­neered on-line elec­tronic pub­lish­ing, cre­ated an on-line enter­tain­ment news ser­vice, and wrote bulletin-board soft­ware. In 1987 he attended the Cannes Film Fes­ti­val to pro­duce a spe­cial daily edi­tion of the Hol­ly­wood Reporter. The text was down­loaded via elec­tronic mail from Hol­ly­wood and placed in an early 'Desk-Top Pub­lish­ing' (DTP) pro­gram. The pages were out­put every morn­ing and printed, being dis­trib­uted to Fes­ti­val atten­dees at breakfast.
While IMC han­dled the record com­pa­nies, Elen saw a mar­ket for on-line com­mu­ni­ca­tions for musi­cians, and with this in mind set up Data Chan­nel Ltd, to run a ser­vice called The Music Net­work. This ser­vice was the first of its kind out­side the USA, and oper­ated suc­cess­fully until he sold it in 1994 on mov­ing to North America.
In 1991, Richard Elen was called upon by Media Natura, a UK-based char­ity offer­ing ser­vices to the envi­ron­men­tal move­ment, to extend once again the bound­aries of elec­tronic pub­lish­ing. Elen was put in charge of devel­op­ing and man­ag­ing a project to pro­duce and cir­cu­late a daily mag­a­zine, called Eco, at the meet­ings of the United Nations Inter­gov­ern­men­tal Nego­ti­at­ing Com­mit­tee for a Frame­work Treaty on Cli­mate Change (INC/FCCC). The mag­a­zine had been pro­duced with tra­di­tional meth­ods since 1972, but it was now time to bring it up to date. This was suc­cess­fully car­ried out and it became one of the first projects of its kind, inte­grat­ing a sophis­ti­cated global net­work of on-line dis­tri­b­u­tion ser­vices with auto­mated fax ser­vices and printed editions.
In addi­tion to printed cir­cu­la­tion at the UN INC meet­ings in Geneva and New York, Eco is today dis­trib­uted inter­na­tion­ally via the Inter­net, and text and Adobe Acro­bat PDF files are sent to loca­tions all over the world where groups and indi­vid­u­als can down­load the file, print out and cir­cu­late their own issues. Richard took Eco on to the Web exper­i­men­tally in 1993, and from early 1994, it has been pub­lished simul­ta­ne­ously on paper and on the Web.
In 1987, Richard Elen moved to his­toric Glas­ton­bury, Som­er­set, in South-West Eng­land. While in Som­er­set, Richard was joined by long-time friend and col­league, Ron Neil­son, who had pre­vi­ously co-owned California's largest adver­tis­ing agency spe­cial­iz­ing in pro­fes­sional audio clients. Together they founded an adver­tis­ing agency, White Horse Group, which devel­oped rapidly into a suc­cess­ful orga­ni­za­tion with sev­eral major clients includ­ing Sound­craft Elec­tron­ics and PRECO Broad­cast Sys­tems. The group pro­duced a large num­ber of highly-praised adver­tise­ments and brochures, and rapidly became Britain's top pro-audio adver­tis­ing agency. Neil­son returned to the USA in 1992, and set­tled near Nashville, TN. In late 1993 he set up a new agency, again spe­cial­iz­ing in pro­fes­sional audio and high-technology clients, with Robert Clyne. The agency began as a part­ner­ship and incor­po­rated in June 1994.
In March 1994 Richard Elen became a tech­ni­cal and cre­ative con­sul­tant to Neilson/Clyne, later becom­ing tech­ni­cal direc­tor and cre­ative asso­ciate. In this capac­ity, Elen was involved with sev­eral projects for clients includ­ing Kurzweil Music Sys­tems of Waltham, MA; Lex­i­con, Inc. of Waltham; Studer of Switzer­land; Mas­ter­fon­ics Stu­dios of Nashville; Tri­dent Audio Devel­op­ments, Tur­bosound and Quested Mon­i­tors of Eng­land. He also mas­ter­minded the set­ting up of a New Media divi­sion of Neilson/Clyne, called MusicPro, to pro­vide Web and inter­ac­tive mul­ti­me­dia ser­vices to Neilson/Clyne clients, where he was respon­si­ble for devel­op­ing sites for Kurzweil and CD-ROM-based audio mag­a­zine Con­trol. Richard worked with Neilson/Clyne full-time until the end of 1995, and has worked with them in an inde­pen­dent capac­ity on sev­eral projects since then.
In early 1996, Richard moved to Cal­i­for­nia to become VP of Mar­ket­ing for lead­ing dig­i­tal audio man­u­fac­turer Apogee Elec­tron­ics. From that time until the end of 2002 he car­ried out the var­i­ous tasks asso­ci­ated with the posi­tion, includ­ing orga­niz­ing trade show rep­re­sen­ta­tion, plan­ning mar­ket­ing strat­egy and super­vis­ing prod­uct launches, and act­ing, essen­tially, as a one-man in-house mar­ket­ing com­mu­ni­ca­tions agency, pro­duc­ing every aspect of com­pany col­lat­eral — brochures, datasheets, man­u­als etc) and adver­tis­ing art­work, and run­ning the web site. In early 2003 he returned to the UK to han­dle Cre­ative Ser­vices at Merid­ian Audio Ltd, car­ry­ing out a sim­i­lar role, leav­ing there to go free­lance in Sep­tem­ber 2011. His cur­rent clients include Merid­ian and lead­ing pro-audio man­u­fac­turer Focus­rite.
Richard writes reg­u­larly for the lead­ing pro­fes­sional and con­sumer audio mag­a­zines, has appeared on indus­try pan­els and has been a reg­u­lar guest on radio shows con­cern­ing tech­nol­ogy and the audio arts. He designed the orig­i­nal Web site­for the lead­ing indus­try pub­li­ca­tion, Mix Mag­a­zine. He also has a Web site for his own surround-sound and audio arti­cles and infor­ma­tion, Ambisonic.net.
In 2004, Richard became the Edi­tor in Chief of the lead­ing UK-based web site net­work cov­er­ing the his­tory of broad­cast­ing, Transdiffusion.org and worked with the cre­ative part­ners, Bow­den Asso­ciates, who moved the multi-thousand-page enter­pise from man­ual updates to a com­pre­hen­sive con­tent man­age­ment sys­tem. He relin­quished this role in 2009 but remains a reg­u­lar contributor.
In 2001, Richard wrote and co-presented (with Bob Clear­moun­tain and Greg Laney) a paper on opti­miz­ing the qual­ity of Inter­net audio at the Audio Engi­neer­ing Society's 18th Inter­na­tional Con­fer­ence in San Fran­cisco. He and Bob also pre­sented the paper to stu­dents at the Uni­ver­sity of South­ern Cal­i­for­nia in April 2001. Richard also pre­sented a paper at the Sur­round 2001 con­fer­ence in Bev­erly Hills, in a ses­sion with Dr Thomas Chen.
Richard Elen was a mem­ber of the com­mit­tee organ­is­ing the Audio Engi­neer­ing Soci­ety UK Cam­bridge Con­fer­ence 2007, enti­tled Illu­sions in Sound, where, in addi­tion, he pre­sented a paper on Ambisonic Surround-Sound. He was also on the Com­mit­tee for the 2008 event, Music Every­where, and pre­sented a paper, this time on the tech­nol­ogy of music dis­tri­b­u­tion and pro­duc­tion in the on-line 'meta­verse' Sec­ond Life. In Jan­u­ary 2009 he was appointed for a 2-year term as a mem­ber of the Com­mit­tee of the Audio Engi­neer­ing Soci­ety, British Section.
Richard has been active in Sec­ond Life and other vir­tual worlds for over six years and is par­tic­u­larly inter­ested in the poten­tial for vir­tual con­fer­enc­ing and eLearn­ing. He has a teach­ing qual­i­fi­ca­tion and is devel­op­ing the lat­ter area of his work in-world. He is a reg­u­lar pre­sen­ter on Radio Riel, an inter­net radio sta­tion based in Sec­ond Life, and also co-presents a weekly in-world TV show, Design­ing Worlds, on design in vir­tual worlds, now pre­sented in HD.
In July 2009, Richard gave a talk at the Open­Tech 2009 gath­er­ing in Lon­don on the pro­duc­tion of radio drama using Voice over IP (VoIP) tech­nol­ogy. You can read more about it here.